ULTRA Worldwide Celebrates Record-Breaking Eight-City Tour of Asia in 2016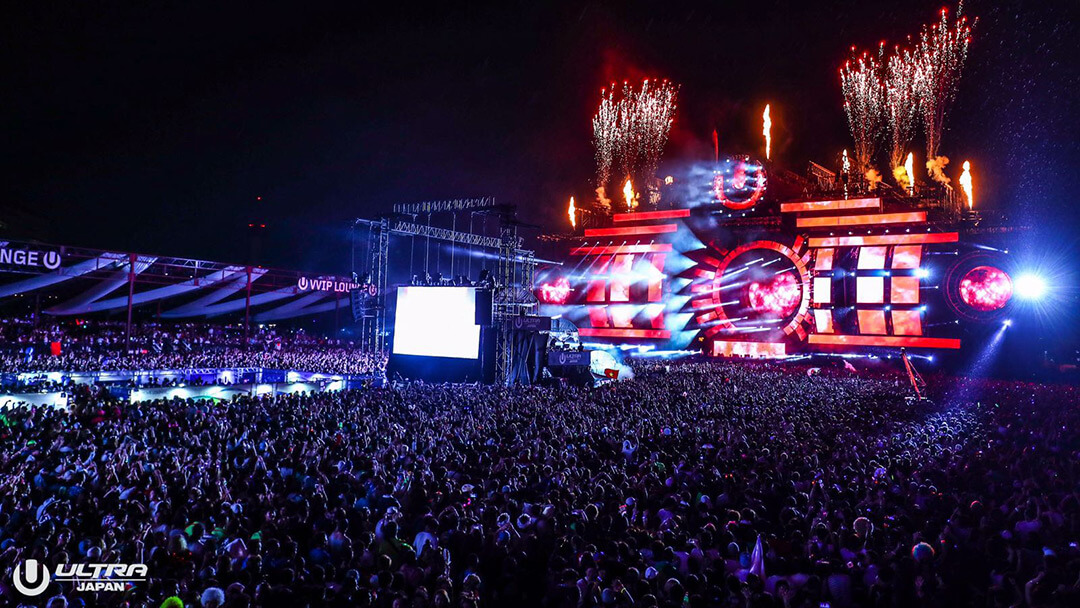 WRAPS SIX EVENTS IN TEN DAYS, FROM SEPTEMBER 10-19
DEBUT EDITION OF ULTRA SINGAPORE ATTRACTS 45,000 FANS TO BAYFRONT'S 'ULTRA PARK' ACROSS TWO DAYS
ULTRA JAPAN WELCOMES 120K FANS OVER THREE DAYS FOR MINDBLOWING FINALE IN TOKYO
THREE EVENTS PRODUCED CONCURRENTLY ON SEPTEMBER 17, IN TOKYO, MANILA & HONG KONG
MORE THAN 350,000 ATTEND GROUNDBREAKING 2016 ULTRA ASIA TOURS IN EIGHT COUNTRIES
ULTRA Korea: June 10 – 12 @ Olympic Stadium, Seoul
Road To ULTRA Thailand: June 11 @ Bitec Convention Centre, Bangkok
ULTRA Singapore: September 10-11 @ ULTRA Park, 1 Bayfront Avenue, Singapore
Road to ULTRA Taiwan: September 11 @ Da Jia Riverside Park, Taipei
ULTRA Beach Bali: September 15 – 16 @ Potato Head Beach Club, Seminyak
Road To ULTRA Hong Kong: September 17 @ Nursery Park, West Kowloon Cultural District, HK
Road to ULTRA Philippines: September 17 @ Mall of Asia Arena, Manila
ULTRA Japan: September 17 – 19 @ Tokyo Odaiba Ultra Park, Tokyo
Kicking off its 2016 Asia tour with the fifth edition of ULTRA Korea and a sold out Road To ULTRA Thailand event back in June, ULTRA Worldwide further solidified its status as the most successful festival brand ever this month (September 2016), as it completed a record-breaking run of six huge shows across the continent in the span of just ten days. All told, ULTRA delivered its top-tier experience to over a 350,000 fans in Asia over 10 days, with its multi-platform, high-definition livestream allowing millions more to tune in to the action from all over the world.
"I'm overwhelmed at what we've been able to achieve across Asia this year. Producing large-scale events of the highest quality in eight countries, all in the span of a total of three weeks, is an incredible achievement and one that our entire team should be very proud of. There is an immense satisfaction in witnessing hundreds of thousands of fans on the other side of the world immersing themselves and enjoying what we do, all being a part of our Ultra Worldwide family. I have to commend our fantastic team in Asia, without whom none of this would be possible" – Russell Faibisch – Co-Founder, CEO, President, Chairman and Executive Producer of ULTRA Worldwide.
Having delivered a sold-out Road To ULTRA in Singapore in 2015, the hugely popular event was upgraded to full festival status in the 'Lion City' as it "broke new ground" (Billboard) over the weekend of September 10 and 11. Armed with ULTRA's triumvirate of Main Stage, Live Stage and Resistance, the highly anticipated debut edition of ULTRA Singapore welcomed huge international stars, including Above & Beyond, Afrojack, Axwell, Alesso, deadmau5, Kygo, Nero (Live), DJ Snake and many more to its striking, outdoor location directly in front of the world famous MARINA BAY SANDS on Singapore's Bayfront Avenue. With 45,000 Ultranauts from 67 countries worldwide in attendance over the course of the weekend at this iconic location which has never hosted a music festival before, ULTRA Singapore marked the perfect start to the second leg of this historic run of events across Asia.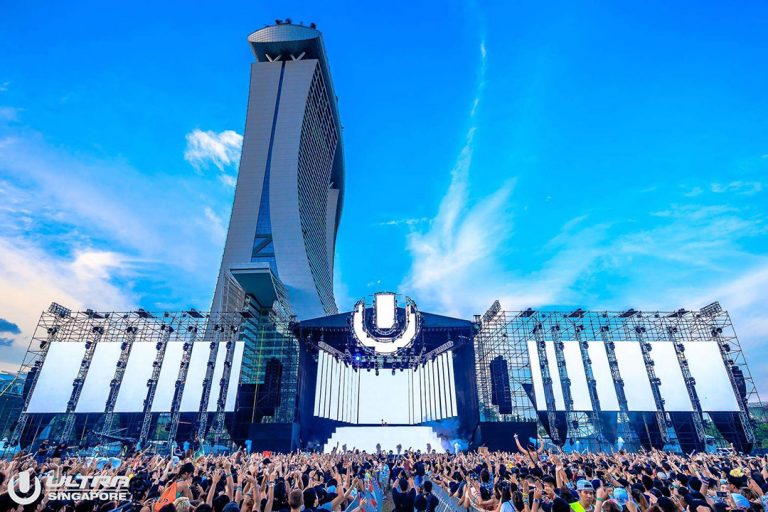 Heading due north, the sophomore edition of Road To ULTRA Taiwan took place on Sunday, September 11. Hosted at its original Da Jia Riverside Park home in the capital city of Taipei, more than 17,000 local and international fans alike were treated to electrifying performances from headliners Afrojack, Alesso, deadmau5, DJ Snake and W&W, with support from Quintino and rising Korean star Raiden.
Next on the itinerary was a trip down to the Indonesian archipelago, to the famed 'Island of the Gods' – Bali. Returning to the Potato Head Beach Club for a second consecutive year, ULTRA Beach Bali was was once again hailed a huge success. From Jauz and Afrojack jumping in the pool with their fans to deadmau5 and Marshmello providing stunning performances on the Main Stage, Day One proved to kick off the event in the best way possible. Headliners Martin Garrix and Dubfire stole the show on Day Two (on the Main Stage and Resistance Stage respectively), with Galantis, Jauz, Nic Fanciulli, Technasia and many more providing strong support across the beach-front site.
Last but by no means least, on Saturday, September 17, ULTRA Worldwide clocked yet another remarkable first by producing concurrent events in THREE different cities across Asia. Road To ULTRA's Hong Kongdebut ran side by side with Road To ULTRA Philippines and SOLD OUT (for the third year in a row) ULTRA Japan, the latter of which saw over 120,000 fans descend upon Tokyo Odaiba ULTRA Park for an unforgettable three-day finale.
The inaugural Road to ULTRA Hong Kong, held at the new Nursery Park in the West Kowloon Cultural District, packed possibly the biggest lineup for a Road To Ultra event in recent memory. Knife Party, Nero (Live) and Martin Garrix were joined by Carnage, Galantis, Jauz, Marshmello and Thomas Jack. Together, they put this first time event firmly on the Ultra Worldwide roadmap.
Road To ULTRA Philippines moved indoors to Manila's Mall Of Asia Arena this year, resulting in another spectacular, yet altogether different experience. Returning to the capital for the second consecutive year, this mainstay event welcomed some of the biggest hitters in dance music, including Alesso, Tiësto, Moti and the surprise last-minute addition of Jauz.
Ultra Japan – The Grand Finale, a sold out weekend and the jewel in the crown of Ultra Worldwide's takeover of Asia. This was a festival spectacular! Complete with brand new, cutting-edge stage designs for both Main Stage and Resistance, and with over 65 international and local acts performing across the weekend, ULTRA Japan provided fans with its most astonishing festival to date. Breaking its previous attendance record with over 120,000 attendees, the festival also brought debut performances to the country from Kygo and Zhu, and delivered one of the most jaw-dropping, theatre-like shows ever seen in the Far East.
The world famous ULTRA LIVE production, presented by UMF TV, streamed the Singapore and Japan festivals to over one million fans around the world. With over 750,000 watching ULTRA live on the official YouTube Livestream and a further 1,000,000 plugging into the exclusive Asia stream hosted on the V Live and LINE platforms, the numbers of those watching online serve up even more proof of ULTRA's true global appeal.
Having created history once again over the last four months in Asia, ULTRA Worldwide continues to live up to its reputation as the most successful international festival brand in the world. With the Asian tour for 2016 now complete, all eyes are focused on South America, where the brand will look to smash its own record and produce an inconceivable eight events in eight days. From October 7-15, ULTRA Worldwide will host various 'Resistance' and 'Road to ULTRA' events in Chile, Peru, Bolivia and Paraguay, in addition to the full-scale debut edition of ULTRA Brasil in Rio de Janeiro.
For further details on all of ULTRA Worldwide's upcoming events, head to umfworldwide.com
About ULTRA Worldwide™
ULTRA WORLDWIDE™ IS THE GLOBAL EDITION OF THE WORLD'S PREMIER ELECTRONIC MUSIC EVENT, ULTRA MUSIC FESTIVAL®.
The ULTRA brand in relation to live events was founded in 1997 in Miami by Executive Producer, President & CEO, Russell Faibisch, who began by producing electronic music events which led to the inaugural Ultra Music Festival® in 1999 on the sands of Miami Beach.
The internationally renowned festival, which has taken place every March since its inception, celebrated its eighteenth anniversary on March 18-20, 2016 by bringing over 165,000 music enthusiasts to the sold out waterfront event in the heart of the City of Miami. Ultra Music Festival®, recently voted the world's #1 Festival by DJ Mag, returns to Bayfront Park for its nineteenth annual edition on March 24-26, 2017.
Choosing to follow a unique and creative vision and a wholly organic growth focused on its true love for music, artists and fans alike, the ULTRA and ULTRA Worldwide™ brands represent not only the world's biggest and most successful remaining INDEPENDENT electronic music festival brand, but also the most international festival brand in the world. Event organizers continue to transport the unrivaled experience from the Miami flagship festival to an ever-growing number of destinations and Ultranauts all over the globe.
Over the past eighteen years, thousands of the world's most iconic DJs, producers and live acts have mesmerized audiences with awe-inspiring sets at ULTRA festivals in ARGENTINA, BALI, BRAZIL, CHILE, CROATIA, IBIZA, JAPAN, KOREA, SOUTH AFRICA and of course MIAMI, as well as ROAD TO ULTRA® events in BOLIVIA, CHILE, COLOMBIA, JAPAN, KOREA, MACAU, PARAGUAY, PERU, THE PHILIPPINES, PUERTO RICO, SINGAPORE, TAIWAN, THAILAND and the USA. Each new global edition has been founded on the same successful recipe that has been perfected over eighteen years in Miami, combining the most diverse electronic talent with the most technologically advanced, large-scale festival productions in the world.
The ULTRA brands have pioneered the live stream experience with 'ULTRA LIVE' (bringing the festival online to over 20 million unique viewers globally) and the audio broadcasting platform 'UMF RADIO' (syndicated to FM Radio in over 62 countries and reaching more than 22 million listeners weekly). Also UMF FILMS' collaboration with FINAL KID has seen some of the most visually breathtaking festival aftermovies in the music space, including a feature-length documentary exploring the explosion of dance music, entitled CAN U FEEL IT™, which was premiered on the red carpet at the Klipsch Amphitheater in Miami in 2012 and was exhibited in over 500 theaters across the Unites States.
So far, 2016 has seen the ULTRA and ULTRA WORLDWIDE™ brands continue to push the boundaries even further, bringing an unparalleled combination of cutting edge productions and the world's best electronic acts back to previous strongholds and new frontiers across the globe. With a brand new edition of ULTRA Brasil® taking place in Rio de Janeiro on October 14-15, 2016, ULTRA Singapore™ having become a full scale two-day festival on September 10-11 and with ROAD TO ULTRA® having recently made its Hong Kong debut, the ULTRA brand has now united TWENTY COUNTRIES across FIVE CONTINENTS worldwide.